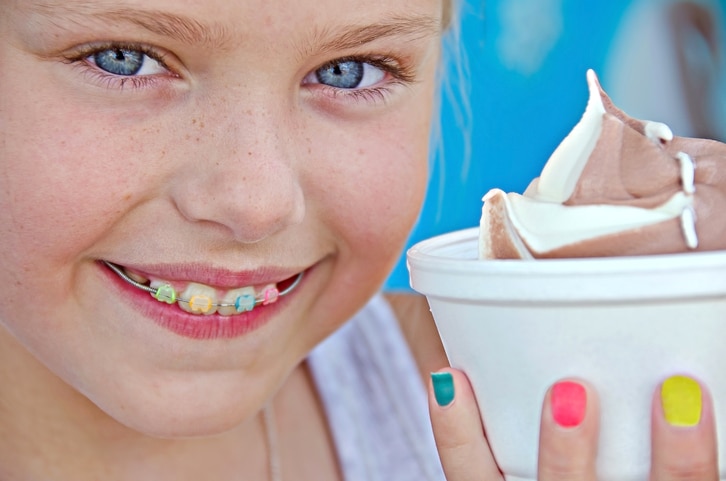 For a lot of orthodontic patients choosing the right color is everything. Choosing the correct color is like making a fashion statement with their mouths. Colors are really heating up! From soft pastels that coordinate with a wardrobe to bright hues for celebrating holidays or expressing school spirit, the colors appear on the elastic ties that bind the wires to the brackets. These ties are changed at each monthly appointment.

While colors for braces are fun, the fun serves a serious purpose, notes Dr. John Lupini DDS, MS, an orthodontist in Wyandotte and Trenton Michigan for over 20 years, and a member of the American Association of Orthodontists (AAO). Enthusiastic patients are more apt to follow instructions on oral hygiene and diet. Good cooperation can yield results that meet everyone's expectations.
"When patients are involved in their treatment, they may take better care of their braces. That helps patient and doctor to reach treatment goals and produce a healthy, beautiful smile," emphasizes Dr. Lupini.
Colors are a hit with countless braces-wearers. "We make sure we have an ample supply of appropriate colors on hand for upcoming holidays, "says Dr. Lupini.
Patients can celebrate every time they smile, year-round: red and white for Valentine's Day; green for St. Patrick's Day; red, white and blue for July 4th; orange and black for Halloween; green and red for Christmas-or blue and white for Hanukah, or black, red and green for Kwanzaa.

Adults, too, are known to choose different colors when they have their braces adjusted. For a sports fanatic, it's a unique way to express loyalty to college or pro teams. Some patients prefer to be less obvious about their orthodontic treatment. They have a variety of options including tooth-colored brackets; self-ligating brackets, which do not require ties to join the wire to the bracket; or clear removable trays.
Thanks to today's technology, the materials orthodontist use to move teeth can range from obvious to almost imperceptible," notes Dr. Lupini.
For more information, visit Dr. Lupini and True Orthodontics website, www.TrueOrthdontics.com, or call/visit us at one of our locations in Wyandotte (734)282-4100 1605 Fort St., Wyandotte, MI 48192 or Trenton (734)675-1170 1954 West Rd., Trenton, MI 48183. Find Dr. John Lupini, DDS, MS on American Association of Orthodontist website. Dr. Lupini is also on Facebook, Twitter and Instagram.